This Article needs additional content. (Remove this when complete.)
Needed: Plot
A Tale of Two Hamlets is the fourth episode of the sixth series of the popular ITV crime drama Midsomer Murders and originally aired 24th January 2003.
Synopsis
The villages of Upper and Lower Warden have been feuding since the days of Cromwell and the Civil War, but now the feud has taken a deadly turn. Larry Smith, the star of a horror film titled The House of Satan, based on events centuries ago, is murdered. Smith is the son of the preeminent local family, the Smythe-Websters. His father is the local vicar, his uncle is the lord of the manor, and another uncle is the producer of the movie. Some residents of Lower Warden object to the fact that an important piece of local history has been turned into a cheap horror film. Is this enough to kill or is it that there are dark secrets that offer a more serious explanation? When a second member of the Smythe-Websters is killed, Barnaby believes in the latter and looks into the family history to find the solution.
Plot
Cast
Galleries
Body Count
Prior to the Episode
In the Episode
Supporting Cast
Episode Images
Quotes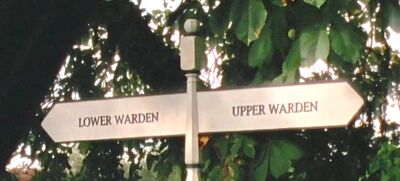 "


Tom Barnaby: Stop Troy, stop. We go down the hill, Troy.
Gavin Troy: I thought we were going to Upper Warden.
Tom Barnaby: Yeah, we are. Upper Warden is down the hill; Lower Warden is up the hill.
Gavin Troy: That doesn't make any sense.
Tom Barnaby: Troy, this is Midsomer!
Gavin Troy: Sorry, I forgot.



"
Notes
The following actors and actresses who appeared in this episode have also appeared in the following episodes: