A Tale of Two Hamlets is the fourth episode of the sixth series of the popular ITV crime drama Midsomer Murders and originally aired 24th January 2003.
Synopsis
When heirs of the aristocratic Smythe-Webster family are killed, Barnaby's investigation uncovers long-hidden family secrets.
Plot
Someone is decimating the ancient Smythe-Webster family of Upper Warden, and the bad blood between the villages of Upper and Lower Warden is renewed with a vengeance. First, young heart-throb actor Larry Smith (alias Laurence Smythe-Webster) dies in an explosion at a publicity event for a new film. House of Satan is based on a book by a local writer, the late Ellis Bell of Lower Warden - a village whose inhabitants are referred to by its Vicar, the Reverend Simon Smythe-Webster, as "the weasels of the wild wood". The next to die is Larry's uncle, House of Satan producer Frank Webster (Francis Smythe-Webster), electrocuted to death on his exercise bike. Finally, Barnaby's principal suspect, Danny Pinchel, the family's cook, is drowned in a large bowl of tomato soup... Barnaby realizes he is dealing with an historic grudge, and he inquires into the family's antecedents.
Cast
Galleries
Body Count
Prior to the Episode
In the Episode
Supporting Cast
Episode Images
Quotes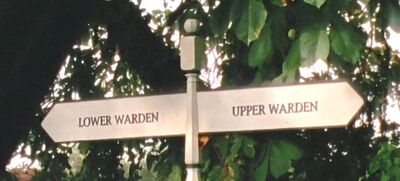 Tom: "Stop Troy, stop. We go down the hill, Troy"
Troy: "I thought we were going to Upper Warden."
Tom: "Yeah, we are. Upper Warden is down the hill; Lower Warden is up the hill."
Troy: "That doesn't make any sense."
Tom: "Troy, this is Midsomer!"
Troy: "Sorry, I forgot"
— Tom and Troy
Notes
The following actors and actresses who appeared in this episode have also appeared in the following episodes
Community content is available under
CC-BY-SA
unless otherwise noted.