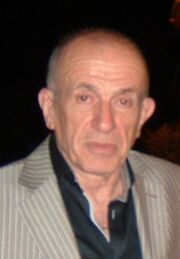 Douglas Watkinson (born 5 July 1945) is a writer who has written the screenplay for 7 episodes of the popular ITV crime drama Midsomer Murders.
He is an English novelist, playwright and screenwriter, specializing in crime and mystery. His books feature the hard-bitten, soft-centred Nathan Hawk, a police officer who was 'required to retire' and now works as a private detective. Known for his wit and fiery temper, Hawk is on his fifth case. The first four books are entitled Haggard Hawk, Easy Prey, Scattered Remains and Evil Turn.
Watkinson was born into an army family and his father served throughout World War II and beyond. He was killed in Palestine by The Stern Gang in 1947. His death is the inspiration for Watkinson's most recent play The Wall, in which a middle aged man visits a military cemetery in Ramleh, Israel and meets a young British soldier who turns out to be his father. Educated at Haberdashers' Aske's, Watkinson later attended East 15 Acting School, where his first plays were performed. Whilst there he met his wife Lesley and they now live in Buckinghamshire with two German Shepherd dogs. Their four grown up children have left home. He continues to write from a shed in the garden.
Episodes with Screenwriting credits
External Links