Joyce Barnaby is the wife of Tom Barnaby and the mother of Cully Barnaby. She is a central character to the series, appearing in over 80 episodes. She is portrayed by Jane Wymark.
Personality and appearance
Joyce Barnaby is a friendly, well liked and passionate woman with a wide variety of hobbies, interests and friends. She is married to Tom Barnaby and has been happily so for many years. They have a daughter named Cully Barnaby who they remain very close with. Joyce is a sociable and amiable woman who is known to have an interest in many things, depending on the focus of the episode—including painting, singing, tango dancing, arts appreciation, drama, cycling, running, charity work and crafts. She is known to her family as an experimental, but not always successful, cook. Thus, Tom is often seen taking advantage of every opportunity to dine out.
She has long possessed a desire to move out of their Causton home and into one of the picturesque Midsomer villages—only to be put off by the grisly murders that occur there.
Relationships
Tom Barnaby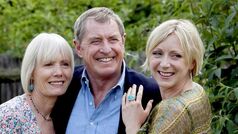 Joyce Barnaby's husband. A Detective Chief Inspector at Causton CID—he is portrayed as being a workaholic, so much so that he spent their honeymoon solving the case of the Pimlico Poisoner, which suggests that they met in London. She married Tom in 1973 and their only child, Cully, was born five years later in 1978. Despite Tom spending a great deal of time solving cases, he and Joyce appear to have a very close and happy marriage.
Cully Barnaby
Joyce and Tom Barnaby's daughter. She is married to Simon Dixon. She was named for a village on Lake Geneva in Switzerland where she was conceived.
Simon Dixon
Joyce's son-in-law. The husband of Cully Barnaby.
Muriel
Joyce's mother.
Douglas
Joyce's father.
John Barnaby
Joyce's cousin-in-law. Tom Barnaby's cousin, he eventually takes over Tom's role as Chief Detective Inspector after Tom's retirement.
Sarah Barnaby
Joyce's cousin-in-law. The wife of John Barnaby.
Gallery