"Murder County"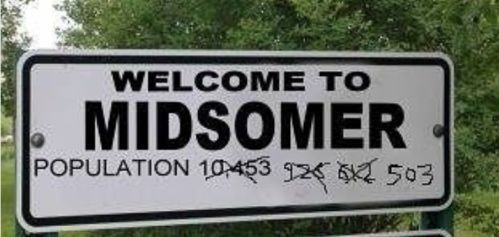 Midsomer County has a penchant for murders! Throughout the span of 126 episodes, there have been more than 395 murders (with more than 337 shown), around 581 deaths in total (with more than 409 seen) and an additional approximate number of 164 attempted murders or suicides (with 160 on screen).
Inconsistencies
In the first video uploaded by BritBox, not every person shown in it was actually murdered. Some committed suicide, others were just attempted to be murdered and some didn't die at all.
In the second video uploaded by BritBox, the first death is not from Season 15 Episode 06 - Schooled in Murder, but from Season 11 Episode 04 - Midsomer Life.
Jump to Series: Top • 1 • 2 • 3 • 4 • 5 • 6 • 7 • 8 • 9 • 10 • 11 • 12 • 13 • 14 • 15 • 16 • 17 • 18 • 19 • 20 • 21 • 22
Pilot and Series 1
Jump to Series: Top • 1 • 2 • 3 • 4 • 5 • 6 • 7 • 8 • 9 • 10 • 11 • 12 • 13 • 14 • 15 • 16 • 17 • 18 • 19 • 20 • 21 • 22
Series Two
'Jump to Series: Top • 1 • 2 • 3 • 4 • 5 • 6 • 7 • 8 • 9 • 10 • 11 • 12 • 13 • 14 • 15 • 16 • 17 • 18 • 19 • 20 • 21 • 22
Series Three
'Jump to Series: Top • 1 • 2 • 3 • 4 • 5 • 6 • 7 • 8 • 9 • 10 • 11 • 12 • 13 • 14 • 15 • 16 • 17 • 18 • 19 • 20 • 21 • 22
Series Four
Jump to Series: Top • 1 • 2 • 3 • 4 • 5 • 6 • 7 • 8 • 9 • 10 • 11 • 12 • 13 • 14 • 15 • 16 • 17 • 18 • 19 • 20 • 21 • 22
Series Five
Jump to Series: Top • 1 • 2 • 3 • 4 • 5 • 6 • 7 • 8 • 9 • 10 • 11 • 12 • 13 • 14 • 15 • 16 • 17 • 18 • 19 • 20 • 21 • 22
Series Six
Jump to Series: Top • 1 • 2 • 3 • 4 • 5 • 6 • 7 • 8 • 9 • 10 • 11 • 12 • 13 • 14 • 15 • 16 • 17 • 18 • 19 • 20 • 21 • 22
Series Seven
Jump to Series: Top • 1 • 2 • 3 • 4 • 5 • 6 • 7 • 8 • 9 • 10 • 11 • 12 • 13 • 14 • 15 • 16 • 17 • 18 • 19 • 20 • 21 • 22
Series Eight
Jump to Series: Top • 1 • 2 • 3 • 4 • 5 • 6 • 7 • 8 • 9 • 10 • 11 • 12 • 13 • 14 • 15 • 16 • 17 • 18 • 19 • 20 • 21 • 22
Series Nine
Jump to Series: Top • 1 • 2 • 3 • 4 • 5 • 6 • 7 • 8 • 9 • 10 • 11 • 12 • 13 • 14 • 15 • 16 • 17 • 18 • 19 • 20 • 21 • 22
Series Ten
Jump to Series: Top • 1 • 2 • 3 • 4 • 5 • 6 • 7 • 8 • 9 • 10 • 11 • 12 • 13 • 14 • 15 • 16 • 17 • 18 • 19 • 20 • 21 • 22
Series Eleven
Jump to Series: Top • 1 • 2 • 3 • 4 • 5 • 6 • 7 • 8 • 9 • 10 • 11 • 12 • 13 • 14 • 15 • 16 • 17 • 18 • 19 • 20 • 21 • 22
Series Twelve
Jump to Series: Top • 1 • 2 • 3 • 4 • 5 • 6 • 7 • 8 • 9 • 10 • 11 • 12 • 13 • 14 • 15 • 16 • 17 • 18 • 19 • 20 • 21 • 22
Series Thirteen
Jump to Series: Top • 1 • 2 • 3 • 4 • 5 • 6 • 7 • 8 • 9 • 10 • 11 • 12 • 13 • 14 • 15 • 16 • 17 • 18 • 19 • 20 • 21 • 22
Series Fourteen
Jump to Series: Top • 1 • 2 • 3 • 4 • 5 • 6 • 7 • 8 • 9 • 10 • 11 • 12 • 13 • 14 • 15 • 16 • 17 • 18 • 19 • 20 • 21 • 22
Series Fifteen
Jump to Series: Top • 1 • 2 • 3 • 4 • 5 • 6 • 7 • 8 • 9 • 10 • 11 • 12 • 13 • 14 • 15 • 16 • 17 • 18 • 19 • 20 • 21 • 22
Series Sixteen
Jump to Series: Top • 1 • 2 • 3 • 4 • 5 • 6 • 7 • 8 • 9 • 10 • 11 • 12 • 13 • 14 • 15 • 16 • 17 • 18 • 19 • 20 • 21 • 22
Series Seventeen
Jump to Series: Top • 1 • 2 • 3 • 4 • 5 • 6 • 7 • 8 • 9 • 10 • 11 • 12 • 13 • 14 • 15 • 16 • 17 • 18 • 19 • 20 • 21 • 22
Series Eighteen
Jump to Series: Top • 1 • 2 • 3 • 4 • 5 • 6 • 7 • 8 • 9 • 10 • 11 • 12 • 13 • 14 • 15 • 16 • 17 • 18 • 19 • 20 • 21 • 22
Series Nineteen
Jump to Series: Top • 1 • 2 • 3 • 4 • 5 • 6 • 7 • 8 • 9 • 10 • 11 • 12 • 13 • 14 • 15 • 16 • 17 • 18 • 19 • 20 • 21 • 22
Series Twenty
Jump to Series: Top • 1 • 2 • 3 • 4 • 5 • 6 • 7 • 8 • 9 • 10 • 11 • 12 • 13 • 14 • 15 • 16 • 17 • 18 • 19 • 20 • 21 • 22
Series Twenty One
Jump to Series: Top • 1 • 2 • 3 • 4 • 5 • 6 • 7 • 8 • 9 • 10 • 11 • 12 • 13 • 14 • 15 • 16 • 17 • 18 • 19 • 20 • 21 • 22
Series Twenty Two
Series 22 Episodes
Ep ID
Title
Murdered During Episode
Murdered Prior to Episode
Death by Suicide
Accidental
or Natural
Death
Attempted Murders or Suicides
Total Murders
Total Deaths
Total Attempted Murders or Suicides
22.1
The Wolf Hunter of Little Worthy

Jez Gladberry




Kelly Kirk-Lees

Eric Gladberry

's wife

Brendan Yarrow

2
3
1
22.2
The Stitcher Society

Reuben Tooms




Georgie Tremayne




Mack McInally

Viola Deepdale

4
4
0
22.3
Happy Families

Victor Karras




Hugo Welles

2
2
22.4
The Scarecrow Murders

Naomi Ashworth




Rev. Oscar Hayden




Thea Stannard

Rachel Taylor

's son


Jack Baldwin

's father

Adele Paige

3
5
1
22.5
For Death Prepare

Demolition Site Manager

Katisha Emspon

Graham Handsworth

Derek Sharrow

's mother

Jeremy Whittingdale

3
4
1
22.6
Totals:
TBA
TBA
TBA
Jump to Series: Top • 1 • 2 • 3 • 4 • 5 • 6 • 7 • 8 • 9 • 10 • 11 • 12 • 13 • 14 • 15 • 16 • 17 • 18 • 19 • 20 • 21 • 22