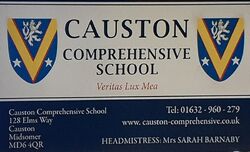 Sarah Barnaby is a leading character in Midsomer Murders, the wife of Detective Chief Inspector John Barnaby. She was first mentioned in the episode Death in the Slow Lane and appears officially in Dark Secrets, the second episode of series fourteen. Upon her arrival in Midsomer County, she takes the post of headmistress at Causton Comprehensive School, Gavin Troy's former school, first shown in Written in Blood.
Sarah does not figure much in her husband's cases; and initially, they do not have any children. They have a loving marriage and celebrated their fifteen year anniversary in Schooled in Murder.
Throughout the sixteenth series Sarah is pregnant and in the last episode of the series she gives birth to their first child, a daughter, Betty.
Biography
Relationships
John Barnaby
Her husband of 15 years at her first appearance. Like Tom and Joyce's, John and Sarah's marriage is a very happy one. They have a dog, Sykes, and in the last episode of series sixteen they have their first child, a daughter named Betty Barnaby.
Dr. George Bullard
Although they apparently met when Bullard's sister took over as dog-sitter for Sykes. No real relationship was formed.
Dr. Kate Wilding
They are friendly in an acquaintance way.
DS Ben Jones
She is casually friendly and invites Ben to come over any time. He is the godfather of her and John's daughter Betty.
DS Charlie Nelson
Jamie Winter