Filming began in April 2017 for the Twentieth Series of Midsomer Murders. Returning to their main roles are Neil Dudgeon, Nick Hendrix and Fiona Dolman, and joining the cast will be Annette Badland who will portray Dr. Fleur Perkins, the new Chief Pathologist. The twentieth series will consist of 6 episodes.
Acorn TV started streaming series 20 episodes on 3rd May 2018 and BritBox began on 4th May 2018.  Both Acorn TV and Britbox are available to Amazon Prime members as add-on channels.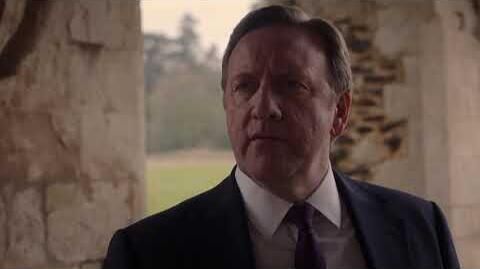 Episodes
Ep ID
Title
Director
Writer
Air Date
20.1
The Ghost of Causton Abbey
Matt Carter
Helen Jenkins

3 May 2018 - (streaming U.S.)
10 March 2019 - UK

Causton is buzzing at the opening of a new brewery on the site of a famously cursed abbey. But excitement turns to fear when a man is found boiled to death in one of the vats. DCI Barnaby and DS Winter are puzzled-could this really be about beer?
20.2
Death of the Small Coppers
Paul Harrison
Chris Murray
3 May 2018 - (streaming U.S.)
17 March 2019 - UK
When Mahesh Sidana - butterfly collector and founding member of an elite IQ society - is found murdered, pinned to a wall in a manner akin to his treasured butterfly specimens, DCI Barnaby and DS Winter are thrust into a crime that impacts not only on their community, but internationally. With the help of an old friend, can they catch the culprit before another victim is found?
20.3
Drawing Dead
Toby Frow
Jeff Povey
3 May 2018 - (streaming U.S.)

19 May 2019 (UK)

Carver Valley's comic festival is in full swing when the village is shocked by the murder of a former supermodel. With a scathing comic shaming several villagers as the only lead, DCI Barnaby and DS Winter are left trying to separate fact from fiction.
20.4
The Lions of Causton
Matt Carter
Nicholas Hicks-Beach
3 May 2018 - (streaming U.S.)

26 August 2019 (UK)

DCI Barnaby gets to relive his former days of sporting glory when a death at the local Rugby Club sends Barnaby and DS Winter into a muddle of rucks and old grudges.
20.5
Till Death Do Us Part
Audrey Cooke
Helen Jenkins
3 May 2018 - (streaming U.S.)

6 January 2020 (UK)

DCI Barnaby is less than impressed when Sarah drags him to a family friend's wedding. But things soon go from bad to worse when tragedy strikes, and Barnaby is called into action to catch a murderer with an apparent penchant for local brides.
20.6
Send in the Clowns
Nick Laughland
Julia Gilbert
3 May 2018 - (streaming U.S.)

14 January 2020 (UK)

Things take a gruesome turn when the circus comes to town, bringing with it a chain of sinister clown sightings, threatening notes and deathly dangerous circus acts.
Community content is available under
CC-BY-SA
unless otherwise noted.