Spoiler warning!
This article contains plot details about an episode that has not yet aired in the UK.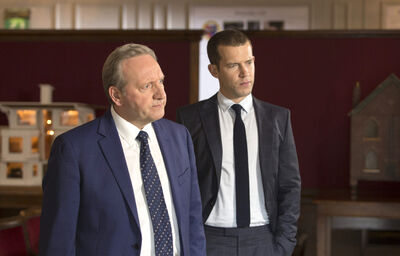 Filming began in March 2019 for the Twenty First Series of Midsomer Murders. Returning to their main roles are Neil Dudgeon, Nick Hendrix, Fiona Dolman, and Annette Badland. The twenty first series episode count is yet to be announced, however, it is likely to be 4 judging by the final week of filming wrapped on August 3rd 2019, with previous series', 6 episodes filming concluding in October.
The first episode introduces John Barnaby's father, Ned, portrayed by Christopher Timothy.
Episodes
Ep Nr
Ep ID
Title
Director
Writer
Air Date
123
21.1
The Point of Balance
Audrey Cooke
Nicholas Hicks-Beach
1 December 2019 US
21 January 2020 UK
When a former ballroom-dance champion is found dead with tulle stuffed in her mouth after the opening gala of the Paramount Dance Extravaganza, DCI Barnaby and DS Winter go toe-to-toe with rival dancers, jealous partners, and suspicious corporate sponsors. Meanwhile, Barnaby contends with a visit from his estranged father.
124
21.2
The Miniature Murders
Toby Frow
Helen Jenkins
1 December 2019 US
4 February 2020 UK
The worlds of miniature dollhouses and real houses collide when a prolific real-estate agent is shot in front of a crowd at the unveiling of a new dollhouse collection at the Midsomer Museum of the Family. The victim had no small number of enemies: he was an unpopular landlord, an estranged husband with a new lover, and a party to a manslaughter case years ago.
125
21.3
The Sting of Death
Matt Carter
Julia Gilbert
1 December 2019 US
21 March 2021 UK
DCI Barnaby and DS Winter are called to the stately home of a master beekeeper after he is injured attempting to apprehend a thief. The village of Granville Norton is abuzz with news of the missing bees, and suspicions fly when one of the locals is stung to death.
126
21.4
With Baited Breath

Jennie Darnell

Jeff Povey
1 December 2019 US
28 March 2021 UK
Tensions run high in the village of

Solomon Gorge

when a fishing competition and extreme obstacle course are scheduled for the same weekend. With each group attempting to sabotage the other, it's not long before someone's life is on the line.