Simon Dixon was a recurring character appearing in 4 episodes of the popular ITV crime drama Midsomer Murders. in the episode Blood Wedding, he and Cully Barnaby are married.
Simon was born in the village of Midsomer Norton but was raised in Macclesfield.
In the episode, The Axeman Cometh, he is the band manager of the band, Hired Gun.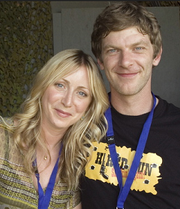 He sees his job as a debt to his father Roly Dixon who was the band's original manager and from who he inherits his business, including Hired Gun's narrowboat. He meets Cully by accidentally stepping on her foot and offering her a backstage pass as an apology. In the episode, he mentions his nickname is Dickhead.
Appearances