The Killings at Badger's Drift is the pilot episode of the popular ITV crime drama Midsomer Murders and was originally broadcast on 23rd March 1997.
Background
The episode was adapted from the novel of the same name by author Caroline Graham and was screenplayed by Anthony Horowitz, who was also well-known for adapting dramas such as Foyle's War and Agatha Christie's Poirot. It was directed by Jeremy Silberston. It is the first appearance of Detective Chief Inspector Tom Barnaby and Detective Sergeant Gavin Troy, played by John Nettles and Daniel Casey respectively.
Synopsis
When Emily Simpson is found dead in her house, DCI Barnaby's instincts all lead him to suspect murder. Although she was elderly and everyone seems to have liked her, it seems she may have seen something in the woods that she shouldn't have. There are numerous suspects: the local doctor who lies about his alibi, Iris Rainbird, the local busybody who seems to live beyond her means or her son Dennis, who is the local undertaker. Barnaby also receives information that a death the previous years may not have been an accident. When two other residents of Badger's Drift are murdered, Barnaby uncovers an illicit love affair that the protagonists must keep secret.
Plot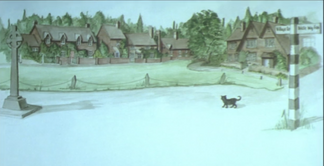 When gentle spinster Emily Simpson is murdered in her own home in the seemingly tranquil village of Badger's Drift, it attracts the attention of DCI Tom Barnaby and DS Gavin Troy of Causton CID. When her friend, Lucy Bellringer, is unconvinced that Miss Simpson died of natural causes, she voices her suspicions. Suspects include Iris and Dennis Rainbird, the Lessiter family, which includes Trevor, the local GP, his wife Barbara, and daughter Judith . Other persons of interest are Henry Trace, the landowner and is engaged to young Katherine Lacey; his estate manager is David Whitely, Katherine's artist brother Michael, and Phyllis Cadell. Barnaby also learns of the shooting of Henry's first wife Bella almost two years ago.
Cast
Galleries
Body Count
Prior to the Episode
In the Episode
Supporting Cast
Episodes images
Videos
Notes/Trivia
The following actors and actresses from the pilot episode of the series have appeared in subsequent episodes:
Quotes
"


DCI Tom Barnaby and DS Gavin Troy arrive at the crime scene, Emily Simpson's house. They get out of the car.
DS Gavin Troy: This is it here, sir.
DCI Tom Barnaby (ironically): Really, Troy?! I'd never have guessed.



"
"


As DCI Barnaby and DS Troy are leaving Lucy Bellringer's house, they are approached by Dennis Rainbird about taking Mrs Simpson's body due to him being an undertaker
Dennis Rainbird: I was wondering if I could take her ... the deceased.
DCI Tom Barnaby: Oh, I'm afraid that won't be possible for a little while.
Dennis Rainbird (with a bit of excitement): Oh. So you do suspect some naughtiness. (takes his right hand to his neck) It was her neck, I understand.
DS Gavin Troy: Who told you that?
Dennis Rainbird: Oh, come on. Everyone knows by now. It's that sort of village.
DS Gavin Troy (irritated): Well, you can't have the body yet. All right?!... (looks at him with a fake smile) Sir?!
Dennis Rainbird (to Barnaby): Oh. I see you've got a right constable there. You let me know when you're ready for me.



"
Community content is available under
CC-BY-SA
unless otherwise noted.