The Killings at Badger's Drift is the pilot episode of the popular ITV crime drama Midsomer Murders and was originally broadcast on 23rd March 1997.
Background
The episode was adapted from the novel of the same name by author Caroline Graham and was screenplayed by Anthony Horowitz, who was also well-known for adapting dramas such as Foyle's War and Agatha Christie's Poirot. It was directed by Jeremy Silberston. It is the first appearance of Detective Chief Inspector Tom Barnaby and Detective Sergeant Gavin Troy, played by John Nettles and Daniel Casey respectively.
Synopsis
When elderly Emily Simpson stepped into the woods one sunny afternoon, she never expected to see what she did. Something she was never meant to see and that meant she had to be silenced. DCI Barnaby and DS Troy arrived in the village of Badger's Drift to discover an array of eccentric characters all with their own sinister agendas. And does the murder have anything to do with a shooting at the local manor that happened one year ago?
Plot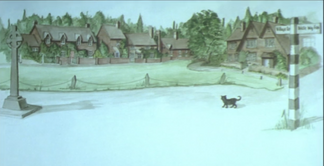 When gentle spinster Emily Simpson is murdered in her own home in the seemingly tranquil village of Badger's Drift, it attracts the attention of DCI Tom Barnaby and DS Gavin Troy of Causton CID. When her friend, Lucy Bellringer, is unconcvinced that Miss Simpson died of natural causes, she voices her suspicions. Suspects include Iris and Dennis Rainbird, the Lessiter family, which includes Trevor, the local GP, his wife Barbara, and daughter Judith . Other persons of interest are Henry Trace, the landowner and is engaged to young Katherine Lacey; his estate manager is David Whitely, Katherine's artist brother Michael, and Phyllis Cadell. Barnaby also learns of the shooting of Henry's first wife Bella almost two years ago.
Cast
Galleries
Body Count
Supporting Cast
Episodes images
Videos
Notes
The following actors and actresses from the pilot episode of the series have appeared in subsequent episodes:
Community content is available under
CC-BY-SA
unless otherwise noted.